| | |
| --- | --- |
| Hardy Zone: | 7-11 |
| Cold Hardy: | Yes, down to 10° and 0° for a short duration |
| Mature Height: | 5-10' |
| Spread: | 4-10' |
| Shape: | Shrub |
| Growth Rate: | Slow, approximately 1" a year |
| Sun Preference: | Full Sun to Full Shade |
| Maintenance: | Easy |
| Water Needs: | Low |
| Soil Preference: | Well Drained |
| Drought Tolerant: | Yes |
| Deer Resistant: | Yes |
Cold-Hardy Low-Growing Georgia native sporting fan-shaped fronds, multiple creeping trunks, and looks fabulous year-round with minimal care.
Why Choose a Green Saw Palmetto Palm?
If you'd like your landscape to have a more tropical feel but your winters are cold, the cold-hardy Green Saw Palmetto can help make that dream a reality. It can take extreme temperatures without skipping a beat. Maybe you'd like to give a natural look to a section of the yard, attract birds and wildlife, or just want a hardy, low-growing palm that works and looks fabulous as a ground cover. The Green Saw Palmetto meets all those needs and more. 
The Georgia native is commonly seen growing under pines and even along roadways, making it extremely hardy because it's used to growing in the area's conditions. The extremely long-lived, low-growing, evergreen palmetto averages around 5 to 10 feet tall with a spread of 4 to 10 feet, forming dense, clumping spreads of greenery. 
Although typically shielded by the dense canopy of green fronds, the stout, brown hairy trunks develop into multiples as the palm ages. The brown hairy fibers make the palmetto more cold-hardy, protecting it from severe temperatures. Trunks eventually creep across the ground, giving the palmetto a unique appearance. 
The dense canopy fills with deeply cut, stiff, green, fan-shaped fronds that grow around 3 feet wide. The fronds are lined with saw-like teeth, thus, the common name Green Saw Palmetto. In springtime, 3-foot flower stalks form containing fragrant yellow bloom, which attracts beneficial pollinators like butterflies and bees. Small berries form after the flowers fade and ripen turning black in fall, attracting birds and small mammals. 
Green Saw Palmettos fulfill a variety of needs within the landscape. Besides growing well in pots situated on a porch or patio, they make lush ground covers, their dense growth works well to add privacy growing as a shrub or screen, planted in mass, used to naturalize an area, and in native, or pollinator gardens. Since they retain their gorgeous and robust green good looks no matter the season, you won't go wrong wherever you decide to use them. 
Is it Cold-Hardy in My Area?
With its stiff green fronds and hairy trunk, you can't beat the Green Saw Palmetto for cold hardiness. It's hardy growing year-round in USDA zones 7 through 11, tolerating temperatures down to 10℉ and can withstand brief dips down to zero. This makes it a suitable and attractive addition to northern landscapes that aren't consistently warm. 
Of course, you can always give the palmetto a bit of protection if harsh weather conditions are on the horizon. Water well the day before the extreme weather is expected and layer the planting site with 3 or 4 inches of organic mulch. You can also add some zing to the outdoor space by stringing some holiday lights throughout the Green Saw Palmetto's canopy. 
How Big Does It Get?
Green Saw Palmettos are slow-growing (a rate of about 1" per year) so it's going to take a while for them to reach their mature size of 5 to 10 feet tall and 4 to 10 feet wide. This makes them great selections for containers or anywhere you desire a low-growing ground cover or mass planting. 
How Much Sun Does It Require?
The palmetto is quite versatile in its preferred light conditions, as it thrives planted in full sun to a location in shade. This makes it a great asset to use in a location that's too shady for a lot of plants. 
What About Soil and Water?
Another great quality about the Green Saw Palmetto is that it grows in a wealth of different soil types including Georgia clay. It tolerates soils that are dry to those that are occasionally wet. 
When it comes to water requirements, the palmetto is highly tolerant to drought and will thrive on only rainfall once established. However, after planting and for the first few months while it's establishing itself in the landscape, water regularly. Depending on local weather conditions, irrigating one to two times weekly is sufficient. 
Is It Easy to Maintain?
If your idea of outdoor fun doesn't include constantly having to do gardening work, then the Green Saw Palm is the plant for you. You'll find you're only having to prune off a completely dead and brown frond rarely. However, the stems are sharp so you might want to wear gloves whenever you do have to occasionally work around the palmetto. 
What About Fertilizing?
Green Saw Palmettos have very low needs when it comes to fertilizing. In fact, it will continue to look fabulous and produce hardy growth if you don't feed it anything at all. However, you can fertilize with a high-quality palm blend in spring or summer. Just follow the package directions on amounts and be sure to water in well after applying. 
Q: Do you deliver?
A: Yes, we deliver within a 30 mile radius of our Alpharetta, GA location. Click here to check your zip code. The cost for delivery is $95. For potential delivery beyond 30 miles, please call us at 770-400-9897.  
Q: Do you install? 
A: Yes, all the plants we sell can be installed by us. Installation cost varies by product. Once you place your products in the cart, it will display delivery and installation costs. We only install AtlantaPalms.com palm trees and plants. Installation requires delivery by us. 
Q: Do you offer a warranty?
A: Yes, we guarantee that your palm tree will arrive in perfect condition. If you're not satisfied within the first five (5) days of receiving your trees and plants, give us a call at 770-400-9897 so that we can make things right. 
If you have issues with your trees or plants within the first 30 days, give us a call. We will review your concerns and provide you with a one-time replacement if necessary. Replacement delivery and installation costs are at the customer's expense.
Please note, palm trees need proper care. If you have provided less than optimal care, your purchase isn't covered by our guarantee.
Q: Do you accept returns?
A: Only palms and plants 15 Gallon or less can be returned. The plant must be returned within 2 days of pickup or delivery and must be in the original container. Once a tree has been removed from its original container, or has been planted, it cannot be returned. Delivery fees are non-refundable.
Q: What payment methods do you accept?
A: We accept all major credit cards and cash.
Q: What are your hours of operation?
A: Monday - Friday: 8:30-5:00 / Saturday: 9:00-2:00
Q: How often should I water my palms?
A: In general, palms should be watered daily with 4 to 5 gallons of water for the first two weeks until the root system is established. Ensure that the soil is wet and not soggy. Too much water may cause permanent damage. Depending on the type of palm and time of year, watering may be decreased to twice a month or less once the tree is established. Make sure you water the trees from the bottom up. Watering from the top down can cause rotting. Soil that has good drainage is important to help prevent over saturation and adding sand to the soil mixture can help with drainage. Placing mulch around the base of the tree and not against the trunk can also help with retaining water. 
For cold hardy palms, watering will vary depending on the time of year and the temperature. Here is a guideline for how much to water in any given season.
Winter (60 degrees of less) no need to water, except for the first 30 days after installation. (5 gallons or till mote is full)
Spring (75 degrees or less) water palm once a week. (5 gallons or till mote is full)
Beginning of summer (90 degrees or less) 2-3 times a week
Heat of summer (90 degrees and above) 4-5 times a week
Q: When do I apply fertilizer to my palm tree?
A: Newly planted palms should not be fertilized until they put out a new spear. For palms planted from the Georgia/Tennessee border down to Atlanta, apply fertilizer in three applications. In heavy clay soils use half the recommended amount of fertilizer, and do not apply granular fertilizers after August 1. Be sure to fertilize only during the growing season (between April 1 and August 1). 
Q: It is a good idea to correctly support larger, newly planted palms?
A: Larger palms will require some form of bracing to maintain stability during the first six to eight months after installation. Three equidistantly-spaced braces are used to support the palm. If Atlanta Palms installs your palm tree, we handle the bracing. 
Q: When should I prune my palm tree?
A: The only time you should prune your palm tree is when the fronds are discolored, broken or pointing to the ground at more than a 90 degree angle. Palms get most of their energy from their fronds, so it's important to be careful not to remove too many. 
Q: Why are drip irrigation systems preferable to sprinklers?
A: Both drip irrigation and sprinklers are good irrigation systems for your palm trees. Drip irrigation is designed to have deeper saturation into a specific area. Sprinklers (spray irrigation) will only saturate the top 3-5 inches per watering cycle whereas Palms root balls are 2-3 feet deep and require a deeper water saturation to develop new roots. Newly planted palms can suffer root loss with a lapse in deep water saturation especially during the hotter and drier summer months.
Customer Reviews
Customer Reviews
30 Jul 2021
Melvin G. Atlanta, GA

United States
It was a great experience.
We went to Atlanta Palms just to check things out and got an entire education on Palms and how they handle Georgia weather. It was just what we needed to make the decision to put palms all over the yard. It was a great experience.
16 Jul 2021
Carl W. Alpharetta, GA

United States
Great place to find palms in the Atlanta area!
Stopped in to see what selection of cold hardy plans they carry. Very good selection and the pricing was some of the lowest that I've seen. I purchased a silver saw palmetto in July and its now in the ground and doing very well. Great place to find palms in the Atlanta area!
15 Jul 2021
Patricia E. Marietta, GA

United States
Rick spent a lot of time with me on the phone and in person.
Rick spent a lot of time with me on the phone and in person. They were able to install the palms the next week. Rick sent a knowledgeable woman to install them with a helper. She was able to place them where they needed to go and gave me suggestions of what to add. She knows her palm trees.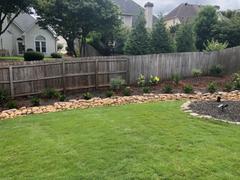 17 Jun 2021
Russ B. Canton, GA

United States
Payment & Security
Your payment information is processed securely. We do not store credit card details nor have access to your credit card information.